Public Eye Health Concerns
Many Public Health concerns and regional NHS priorities have implications on the eye health of the local NTW population.  Obesity, Smoking, and lack of exercise increase the risk of avoidable sight loss.  Some devastating eye conditions are more prevalent in specific ethnic groups.
Living with sight loss can impact independence, social isolation and mental health.
This short report aims to highlight the current and potential role optometry can play in improving the health outcomes of the NTW population.
Avoidable sight loss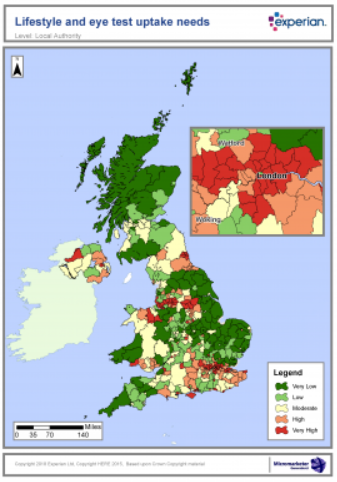 A map developed for National Eye Healthweek in 2018 highlighted areas of the UK – including the North East ­– where poor lifestyle habits and inadequate health screening are putting residents at serious risk of sight loss.
Prevention and early diagnosis of common eye conditions are key to reducing the number of people suffering sight loss unnecessarily.
Early detection through GOS sight tests
NHS funded Sight Tests (GOS) are primarily designed to identify whether a prescription for glasses is required for general use and/or specific tasks; however, they provide an opportunity to identify eye diseases and some systemic diseases, frequently before any symptoms have developed.
Whilst those needing glasses will often attend a routine sight test, many people are still unaware that they could be eligible for an NHS funded Sight Tests and potentially help towards new glasses. Many of those who are unable to attend a community-based Opticians unaccompanied due to physical or mental disability are unaware that all Opticians either offer domiciliary services themselves or will refer patients to a colleague who does.
Falls Prevention and Vision
Across the UK, falls are the most common cause of hospitalisation for people aged over 65, and are the leading cause of accidental death in those aged over 75. Undetected, untreated visual impairment and inappropriate eyewear play a significant role in the high incidence of falls among older people. For more information and helpful video click HERE
Dementia and Vision
It is estimated that at least 250,000 people in the UK are living with both sight loss and dementia.  Sight Tests are tailored to the cognitive ability of the person; often, people suffering from Dementia can undertake a full sight test. Cognitive impairment makes it particularly important to continue with eye care as poor eyesight is associated with disease progression.
Frailty and Vision
The prevalence of sight loss increases with age.  Optical practices, as part of the Primary care workforce, build-up relationships with the population they support – providing opportunities to identify frailty at an early stage and allowing the optometrist to signpost people for support.  Identification of eye disease before visual impairment can also help to reduce frailty progression due to loss of independence and reduces the risk of falls.
Engaging the optical workforce
NTW LOC are keen to encourage better connections between local Falls Services and Primary Care optometrists – please contact us to discuss this further. The NTW LOC would be interested to discuss implementing the national advocated Healthy Living Optical Practice (HLOP) pathway across NTW.
The LOC are also keen to discuss ways to improve access and the sight test experience for hard to reach population groups, helping to prevent sight loss with CCGs and Health & Well Being boards/PH teams.